Local Haunted Houses Provide Chills, Thrills
Sep 30, 2014 05:12PM ● By Vanessa Orr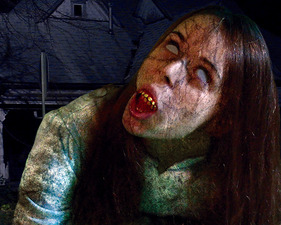 While we traditionally think of Halloween as a holiday for the kids, the fact is, it can be a lot of fun for adults, too. For those who have outgrown the costumes but are still looking for a frighteningly good way to welcome the season, there are a number of haunted houses in the North Hills and surrounding areas that will give you a good scare.
The West Deer Nightmare in Bairdford, PA, has made such an impact on visitors that they actually believe that its main character, Noah Hobbs, was a real person. "I've had paranormal societies call me and want to explore Bairdford Park, not realizing that Hobbs is a fictional character," said Shawn Maudhuit, the creator of the event.
So crazy that the carnival wouldn't take him, Hobbs attempted to create his own 'freaks' out of body parts; today, no one is really sure whether Hobbs is dead or alive, a ghost or a demon. This year's theme, Nightmare Possessed, focuses on researchers trying to determine exactly what Hobbs is…with disastrous results. "We have really amped up the scares this year. It's so creepy that it actually creeps out our cast members," said Maudhuit. "People are going to be really surprised by what happens during the opening scene, and the ending has a really, really scary twist."
The ScareHouse in Etna has earned a reputation for being terrifying as well; it's been named "One of America's Scariest Halloween Attractions" by the Travel Channel, and this year it's working hard to keep that designation. According to Margee Kerr, ScareHouse's resident sociologist, visitors will get the chance to roam through three seriously daunting haunts—The Summoning, the Pittsburgh Zombie Blackout and Creepo's Christmas in 3D.
"The Summoning re-creates the building in its 1930s heyday, when secret societies ruled," Kerr explained. Whether visitors will get initiated into the society or sacrificed remains to be seen.
"The Pittsburgh Zombie Blackout is Pittsburgh during a zombie apocalypse—with the lights out. You have to figure out how to survive the horde in the dark," she continued. "And Creepo's Xmas is the result of an angry clown, Creepo, taking over a Christmas village to make it his own because he's mad that Christmas gets better marketing than Halloween." In his mission, Creepo is accompanied by demonic elves, killer toys and mutant snowmen.
If you want to take a more proactive approach to combatting killer ghouls, you can visit Zombies of the Corn, which is held at Three Rivers Paintball in Freedom, about five minutes from Cranberry. Here, you can open fire on the living dead as they emerge from a cornfield; specialized paint guns that can kill the diseased souls are provided on a specialized zombie combat vehicle.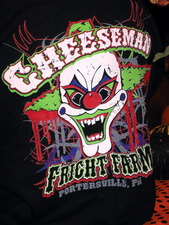 And for an outdoor freakfest, visit Cheeseman Fright Farm for a haunted hayride that is truly terrifying. Not only are you out in the middle of nowhere—but you're not alone. Over 100 ghosts, ghouls, chainsaw-wielding fiends and walking corpses will keep you company as you scramble to find your way out of the corn maze and back to civilization.
One thing to keep in mind before you go to any of these attractions: please visit their websites to find out if there are age limits. The ScareHouse, for example, doesn't allow any children under the age of 7 and is not recommended for kids under the age of 13.
For more information on times, ticket prices and locations of these haunted houses, visit
www.westdeernightmare.com
,
www.scarehouse.com
or
www.cheesemanfarm.com
.
Halloween Events in and around the North Hills
Fridays, Saturdays & Sundays in October: Cheeseman's annual Fright Farm. Begins at dusk. Children 12 and under need to be accompanied by an adult. Ticket sales end at 10 p.m. 147 Kennedy Rd., Portersville. 724-368-3233. www.cheesemanfarm.com.
Saturdays & Sundays in October: Cheeseman Farm Pumpkin Festival. Wagon and tractor hay rides, petting zoo, hay jump pumpkin video, concession stand, gourds, corn stalks, hay bales and more! Hayride $4/person, free/children under 2. Pumpkins $0.40/pound. 12-5 PM. 147 Kennedy Rd., Portersville. 724-368-3233. www.cheesemanfarm.com.
Oct. 5: Pumpkin Frenzie at ARMCO Park. New event! Pumpkin carving, painting, hay rides and more. $20/carload. 1-4 PM. 341 Centerville Pike, Slippery Rock. 724-287-4733. www.bcfymca.org.
Oct. 10-31: Hallo-Weekends in Evans City. A month of ghoulish fun with family-friendly weekend events to celebrate Evans City's history and heritage. Kicks off with Living Dead Fest including camping at EDCO Park. Fall vendor/craft show, movie screening, costume party, celebrity meet-ups, bonfire, pumpkin carving, Halloween parade, trick-or-treat, specials at the local shops and more. www.evanscityhalloweekends.us.
Oct. 10-12: Living Dead Fest. Check out the website for details. 1-7 PM. EDCO Park, Main St., Evans City. www.livingdeadfest.com.
Oct. 10-12: Camp out at EDCO during The Living Dead Festival. 10x10' tent only sites available during the Living Dead Festival at EDCO Park. $35/night or $50/two nights. Bathroom and shower facilities available. Concession stand featuring hot breakfast, lunch and dinner. Camping fees do not include admission to the festival. EDCO Park, Main St., Evans City. 724-538-8920. www.edcopark.com.
Oct. 11: Sleepy Hollow Fall Festival in Harmony. Food, drinks and live music. Trick or treat, costume contest, scavenger hunt, cookie decorating, scarecrow and pumpkin decorating contest, seasonal brews at The Harmony Inn, pumpkin trees, face painting, ghost tours and a paranormal puppy fest to benefit the Butler County Humane Society, complete with demonstrations of equipment by actual investigators. Free. 9 a.m. to 7 p.m. 724-452-0539. www.bottlebrusharts.com.
Oct. 17: Howling Halloween in Cranberry Twp. Cranberry Twp. Municipal Center. If you dare, take a tour through Screamberry Mansion! Enjoy ghoulish activities, treats (and tricks) and lots of candy! $15/program fee at the door, pre-register for a discount. 2525 Rochester Rd., Cranberry Twp. 724-776-4806 x1129. www.twp.cranberry.pa.us.
Oct. 17: "Witches Brew" at the Strand Theater. Entering its 8th season, Witches Brew takes you on a journey to a far off place to meet the bitter and evil Witch of Halloween. Witches Brew is a great way to introduce a younger audience to live musical theater. The colorful costumes, lights, and set hold their attention, along with music that will be familiar and enjoyable to young and young-at-heart alike! 7:30 PM. Tickets: $10-20. 119 N. Main St., Zelienople. 724-742-0400. www.thestrandtheater.org.
Owl-o-Ween. Sat., Oct. 18, 11 a.m.-3 p.m. Annual harvest festival. Wear costume. National Aviary, 700 Arch St., Pittsburgh. www.aviary.org.
Oct. 19: Fall Hayride at Cranberry Highlands Golf Course. Ride together on the scenic nature trail. Includes hot dog, drink, festive cookie and a small pumpkin. All children must be accompanied by adult. (Adults ride free with child.) Preregistration required. Sessions will be every half hour starting at 2 p.m. $12/child (ages 1-12). Brought to you by Cranberry Twp. Dept. of Parks and Recreation. 5601 Freshcorn Rd., Cranberry Twp. 724-776-4806 x1129. www.twp.cranberry.pa.us.
Oct. 19: Harmony Museum's annual Pumpkin Pancake Brunch. Pumpkin and regular pancakes, scrambled eggs, sausage, maple syrup, fruit, beverages. Reservations suggested. Proceeds benefit museum operations. Harmony is at I-79 exits 87-88 about 10 miles north of the Pennsylvania Turnpike. 9 a.m.-1:30 p.m., Stewart Hall, 218 Mercer St. in Harmony's National Historic Landmark District. 724-452-7341. www.harmonymuseum.org.
Oct. 23-24: Spooky Stories: Halloween Meets History at The Old Stone House. The Old Stone House will offer interactive storytelling, historical reenactments, and paranormal investigation, also known as ghost-hunting. This fun and family-focused tour of the restored 1822 inn is free of charge. Donations will be accepted to cover the cost of the event and benefit the Old Stone House. Suggested donation is $3/person or $5/family. 2865 William Flynn Hwy., Slippery Rock. 724-992-8708. www.oldstonehousepa.org.
Oct. 24: Halloween Hunt w/ Parties & Playdates Studio. Let the kiddos come all dressed up in their Halloween gear. They will enjoy crafts, play, music, and a great Halloween hunt for goodies. Registration and pre-payment is required through Oct. 12. Refunds are available prior to Oct. 10. Event is $20 per child with refreshments included. Registration available in the studio or online. N. Main St, Butler. 724-496-6205. www.partiesplaydates.com.
Teens-Only Zombie Homecoming Dance. Fri., Oct. 24, 8-9:30 p.m. Open to teens in grades 6-12. Registration-only event. Northland Public Library, 412-366-8100, www.northlandlibrary.org. 300 Cumberland Rd.
The CATtivo HOWLoween Bash. Fri., Oct. 24, 7:30 p.m., Cattivo, 146 44th St., Pittsburgh. Local bands, silent auction, raffle. Cat/dog Halloween attire encouraged. 100 percent of the proceeds benefit Homeless Cat Management and Hello Bully. 412-687-2157, www.cattivo.biz.
Bruster's of Ingomar Costume Contest. Sat., Oct. 25, 5 p.m., Bruster's of Ingomar, Perry Hwy. Proceeds from all ice cream purchased during the event will go to United Mitochondrial Disease Foundation. Compete ($3) for a prize pack. 412-366-9899.
Ingomar VFC's Halloween Parade and Open House. Sat., Oct. 25, 5 p.m., Ingomar Elementary School, 602 West Ingomar Rd. Parade travels to the Halloween party and open house at Ingomar Volunteer Fire Company No. 2's main station at 9695 Harmony Dr. Free. 412-364-3571, www.IngomarFire.org.
Owl-o-Ween. Sat., Oct. 18 and 25, 11 a.m.-3 p.m. Annual harvest festival. Wear costume. National Aviary, 700 Arch St., Pittsburgh. www.aviary.org.
Halloween Party in the Park. Oct. 25, 1 p.m. Costume parade, contest and more. Pine Community Center, 724-625-1636. 100 Pine Park Dr., Wexford.
Oct. 25: Haunted Bonfire at Alameda Park. Bring a lawn chair and enjoy an evening of ghost stories. Enjoy a cup of hot chocolate, popcorn and hotdogs in front of a roaring bonfire. Listen to storytellers take you on a journey into the spooky, weird and fun world of Halloween. Piñata and the always popular Alameda Treasure Scramble! $7/child pre-registration through Oct. 10, $9 after that date. 6:30 p.m. at the Masonic Shelter. 184 Alameda Rd., Butler. 724-284-5383. www.co.butler.pa.us/Parks-and-Recreation.
Oct. 31: Derailleur Bike Shop Cafe Halloween Costume Party. Calling all goblins, ghosts and freaks of holiday fright. Creep, float or crawl to our costume party on Friday night. Apple cider and Halloween tricks and treats. BYOB. You'd be ghoulish to miss this party! 7:30-9:30 PM. $5. 107 Dittmer Rd., Butler. 724-282-1091. www.derailleurbsc.com
Oct. 31-Nov. 1: Hobnob Theatre Co. presents Edgar Allan Poe: Tales of the Grotesque at Succop Theater. In this fresh and interesting story, the tortured poet finds himself in a conversation with an old and familiar friend. The play reveals much about the tortured life of Poe and his family, and includes some well-crafted adaptations of his most popular and horrifying works. 107 College Dr., Butler. 412-736-1204. www.hobnobtheatre.com.
Trick-or-Treat for Pine Township. Oct. 31, 6-8 p.m.