Shelter Dogs: Myths and Misconceptions
Sep 30, 2014 03:41PM ● By Shelly Tower Rushe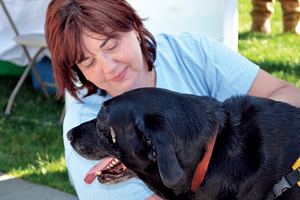 Every year, approximately 1.2 million dogs are euthanized in animal shelters across the United States. Yet many people still choose to find their pets at pet stores or through breeders, thinking that dogs found in shelters are somehow inferior.
Common misconceptions are that shelter dogs are somehow damaged. That they couldn't possibly make good pets. That they are untrainable. But the truth is the complete opposite.
Pittsburgh area shelters know firsthand that shelter dogs can be the best pets if people are educated about the facts and myths involved. Janice Barnard, M.S., program director at Animal Rescue League, says that many people believe that all shelter dogs have been abused. While she acknowledges that a small percentage have been abused or neglected, the majority of animals end up at the shelter for one of two reasons: because the owner was not prepared for the daily commitment of a dog or they were not prepared for some unpleasant dog behaviors, such as chewing.
Adopting one of these dogs is a matter of finding the one that best fits your family. "There's no real right or wrong answer, as long as you are able to provide enough time and exercise to suit the individual needs of your specific dog," Barnard explained.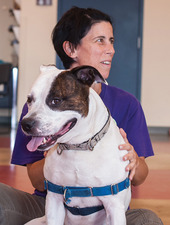 Animal Friends' Canine Behavior Technician Eve Salimbene agrees that while many people believe shelter dogs are damaged, the reasons she sees dogs surrendered vary greatly and rarely are behavior-related: for example, the owners are moving, a family member has allergies, there's a new child, a divorce or military deployment. However, she believes that dogs that do have behavior issues can usually be rehabilitated.
The Animal Rescue League (ARL), Animal Friends and the Western Pennsylvania Humane Society (WPHS) all conduct thorough behavior and temperament testing for each dog that comes through their doors. This means that dogs are evaluated to determine what type of family would be the best match. For example, would a dog do well with small children? What about other pets? Does the dog need a large area to exercise, or need an experienced owner because it pulls on a leash? "We will work with adopters to make sure that the dog they choose fits their lifestyle and that they are able to meet the needs of the dog, promoting a very happy match for all involved," said Salimbene.
In conjunction with determining a dog's disposition, most shelters will work on behavior training with dogs while they are in their care, including basic manners and activities that decrease stress in the shelter. "Enrichment supports dogs' sensory and social needs, and teaches basic manners, giving dogs the confidence and training necessary to make a good impression on adopters and succeed in the real world," said Kristen Lane, director of marketing and public relations at WPHS.
Both Salimbene and Lane acknowledge that some dog owners prefer a purebred dog, and that many of these dogs often end up at both of their shelters. In 2013, Fetch! Magazine reported that on a national level, 37 percent of shelter dog admissions were purebreds; Salimbene estimates that 25 percent of the dogs that they see at Animal Friends are purebreds.
That said, Lane, who is the owner of two adopted mixed breeds, is quick to praise mutts. "Many people believe that all shelter dogs are mutts, and think that mutts are inferior dogs. But mutts are wonderful dogs—they tend to have very even temperaments, and often don't have the behavioral problems that many pure breeds exhibit. In addition, they rarely have the genetic problems that are typical of pure breeds, such as hip dysplasia, incessant digging or barking. And let's face it—mutts are darn cute."
Barnard believes that anyone adopting a dog is making a positive difference, and should feel good about it. "You are giving a dog a second chance," she said.
Agreed Salimbene, "You will be rewarded time and time again for saving its life."