Repurposing Pays It Forward in Many Ways
Sep 30, 2014 03:35PM ● By Veronica Tucker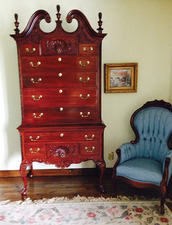 Repurposing comes in all different shapes and sizes, forms and styles. From keeping items out of landfills to helping shoppers save money, changing something so that it can be used for a new purpose is good for everyone. In some cases, repurposing even helps those in need, from shelter animals to women getting their lives back on track.
Elaine Wills Fitzgerald, owner of It's New to Me, a consignment gallery with locations in Ross Township and Peters Township, opened her first store in 2004. "I was shocked at the high furniture costs at retail stores," said Fitzgerald, who at the time was a stay-at-home mom to three daughters and a son. "I saw an ad for used furniture that was brand-name and very high quality, that was being sold because the homeowner's interior decorator was 'going in a new direction.' That inspired me to open my own consignment furniture store."
With the support of her family, Fitzgerald opened her store in Peters Township 10 years ago. "We were successful the first month, so we expanded and opened a second store," said Fitzgerald. "Our North Hills store has mostly furniture, and our South Hills store has household items such as crystal and china in addition to furniture."
It's New to Me is strictly a consignment store with more than 3,500 consigners at both locations. "We want perfect items—we want what your designer told you to get rid of!" Fitzgerald said.
Treasure House Fashions opened its doors in 2000. "I started Treasure House Fashions at a time when I was kind of being repurposed myself," shared Sally Power, founder and executive director. "I was going through a divorce, was in debt and wanted to be a role model to my children."
Treasure House Fashions is a store that empowers women. In partnership with over 60 agencies, Powers gives gift certificates to women who need a little extra help for whatever reason, and sometimes assigns personal shoppers to provide them with attention and encouragement. "We believe in women helping women," said Powers. "We invest in women undergoing challenging journeys."
With the help of its very generous donators and more than 40 volunteers, Treasure House Fashions will soon be opening a new location on McKnight Road that offers increased access and visibility. "Our hope is to eventually provide mentoring, internships and marketable skills workshops," said Power.
"Despite difficult financial struggles, I feel like the richest woman in the world because of these amazing women," added Power. "We all have a story. Being able to encourage another woman on her journey is very enriching."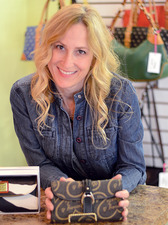 It's not always people who benefit from the power of repurposing. Shelter animals reap the rewards at WearWoof, a shop which features better and designer women's clothing as well as accessories including jewelry, shoes and handbags.
"I wanted to work in animal welfare but I also love fashion," explained Nancy Lee, executive director and founder of WearWoof, Inc. "I was volunteering at a cat shelter in Florida that had a thrift store for fundraising efforts, and opening a resale boutique for better women's clothing benefiting animals seemed the perfect solution."
WearWoof opened in April 2013 and over the last year and a half, has donated approximately $20,000 to its 32 partner organizations, which range from Animal Friends to Wild Bird Recovery to Hope Haven Farm. "We want to establish Pittsburgh as the area's most pet-friendly city by supporting the work of shelters and rescues, including smaller volunteer-based shelters," said Lee. "We also support programs focused on education.
"My dream is to end pet homelessness in Pittsburgh," added Lee. "Unwanted cats and kittens, including ferals, are problems overwhelming our shelters, and aggressive spay-neuter programs are the answer. We are in the planning stages for a clinic that would provide those services at no cost to our shelter partners and to the community at large."
When you find that your closet is overflowing or you have items you just no longer wear, please consider recycling, repurposing and upcycling. That dress that just doesn't fit right or those shoes that don't match anything else in your wardrobe just might have a higher purpose.
For more information, visit
www.itsnewtomeconsignments.com
,
http://thfashions.org
and
www.wearwoof.org
.