Breast Cancer Awareness Important Year-round
Sep 30, 2014 03:04PM ● By Hilary Daninhirsch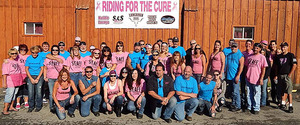 It's October, and although fall colors abound, don't forget to wear pink in support of Breast Cancer Awareness Month. Wearing pink may remind a woman to get that overdue mammogram, or encourage others to offer help to a friend involved in treatment.
"The whole month is centered around creating breast health and breast cancer awareness, encouraging women to have annual mammograms. We know early detection is what saves lives," said Kathy Purcell, CEO of the Pittsburgh affiliate of Susan G. Komen.
Purcell said that every 13 minutes, a woman dies of breast cancer, which translates to 40,000 deaths a year. And 400 men will die each year of breast cancer as well. Due to raised awareness about the importance of early detection through mammography over the past several decades, however, the survival rate has improved dramatically: The five-year survival rate in early 1980s was 74 percent; today it is between 98-99 percent.
Many breast cancer fundraisers kick into high gear in October. For example, the bra company, Wacoal, will donate money for each bra fitting that Macy's does to breast cancer research; Philip Pelusi, Dean's Honda and Grove City Outlets are just a few other local businesses that will hold fundraisers this month. In addition, the annual Paws for the Cure Walk will take place at Hartwood Acres on October 12.
Although October is recognized as Breast Cancer Awareness Month, fundraisers and other events are held year-round. For example, in honor of her best friend who was diagnosed with breast cancer at the age of 35, Lynda Kerr and a group of volunteers put together a fundraiser called Riding for the Cure, a motorcycle ride through the Butler area.
Held on the last Saturday of July, Riding for the Cure has raised close to $50,000 over a three-year period through raffles, a Chinese auction, registration fees, sales of items and other donations. Funds are dispersed locally to such organizations as the Richard Laube Cancer Center in Kittanning and Lana's Spirit, a group that provides 'dignity robes' for use in hospitals while patients are undergoing cancer treatment.
Anyone traveling on Route 422 last July may have witnessed an unusual sight: a caravan of over 300 motorcycles in which the riders were wearing a "sea of pink," as Kerr put it. "We also had a hair drive this year," she added. "There's a business on Route 8 in Allison Park called Creative Hair Solutions. People cut their hair off to donate and raise money for the owner to make hairpieces and wigs for cancer patients."
One of the recipients of funds from Riding for the Cure was the Butler Breast Cancer and Women's Support group, led by Cheryl Schaefer. The group meets monthly at the Butler Health Systems Cardiac Center on Oneida Road in Butler; about 75 women of all ages, in all stages of treatment or recovery, attend the meetings.
"We support each other; we can talk to each other about things that are going on and reactions we are having and emotional situations we are experiencing. We talk about things that have helped us, things that even the doctors don't know," said Schaefer.
Schaefer added that she is able to use donated funds to pay for procedures denied by insurance, or pay for transportation; she's even paid the utility bills for women who couldn't afford to do so because of expenses related to breast cancer treatment.
Schaefer, herself a 20-year survivor, often arranges for speakers from Magee-Womens Hospital to help educate the group. She said that the support group attracts even those who have been cancer-free for a long time for one main reason: the sisterhood. "They become like your sisters; you form such a unique bond. You cannot form the same bond with a family member that you can with someone else who has had breast cancer," said Schaefer. "You become a sister of a different form, and that sisterhood lasts for life."
For more information, visit
www.komenpittsburgh.org
. To learn more about Riding for the Cure, visit the organization on Facebook or
www.ridingforthecurebutler.com
.