La Roche College Opens Field of Dreams
Sep 30, 2014 02:27PM ● By Vanessa Orr
On Saturday, Sept. 6, La Roche College officially opened its $2.7 million renovated athletic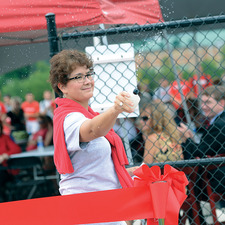 complex, which includes a new turf field, a pavilion for concessions and restrooms, and additional parking and landscaping. Started in spring 2014, other enhancements, including a new scoreboard and warning track for the baseball field, will be completed this fall.
"It is not a cliché to say that this complex is, indeed, a 'field of dreams' for La Roche College," said College President Sister Candace Introcaso, CDP, Ph.D., at the dedication ceremony. "This complex has been a dream of student athletes, coaches and loyal La Roche Redhawk fans for a very long time. Today, they are victorious as we officially launch this inaugural season at our new complex."
The dedication ceremony began with a blessing of the new turf field by Sister Elena Almendarez, CDP, director of mission and ministry for the college, and was followed by remarks by Steven Massaro, vice president for business development of Massaro Corporation and chair of the La Roche College board of trustees. U.S. Congressman Keith Rothfus and PA State Representative Mike Turzai also spoke.
Sister Candace publicly thanked major donors S&T Bank, La Roche trustee Nicholas Varischetti and another major donor who remains anonymous. The ceremony ended with a ribbon cutting followed by a cookout lunch and the women's and men's soccer games.
Soccer team captain Bryan Weimerskirch thanked donors on behalf of La Roche College athletes. "I cannot thank you enough for making our dream become a reality," he said.
La Roche College currently offers 12 varsity sports. The La Roche College Redhawks compete in the Allegheny Mountain Collegiate Conference (AMCC) in NCAA Div. III. The college's teams have won 12 AMCC championships and 10 AMCC regular season titles. The new athletic complex will enable the college to expand the number of sponsored teams, including the addition of women's lacrosse.
DRS Architects Inc. completed the design and technical plans for the complex. Massaro Corporation served as general contractor. Both firms are headquartered in Pittsburgh.
for more information, visit
www.laroche.edu
. To see more photos of the dedication, visit
www.northhillsmonthly.com