Student Exchange Programs Provide Immersion into Different Cultures
Sep 30, 2014 02:08PM ● By Shelly Tower Rushe
There are many advantages to taking part in a student exchange program, including the opportunity to see a new country, meet new people and gain life experience. Acting as ambassadors for their own countries, students are able to learn more about the culture, history and traditions of other countries and even improve their language skills. And beyond all of the learning—it's a lot of fun.
Judy Stewart, global studies program coordinator at Sewickley Academy, knows firsthand that their exchange students get more than an education while they're in the United States. Students from Australia, France, China, England, Spain, Costa Rica and Germany stay with Sewickley students or faculty during their time in the states, which can be anywhere from 10 days to six weeks, with the average stay being about two weeks.
While students are here, Sewickley provides numerous group trips to introduce them to the area.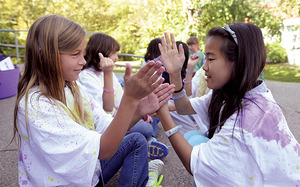 "We take them on excursions like a full day in Pittsburgh visiting the incline, Warhol Museum, Primanti's or the Hard Rock Café, and on a double-decker bus or Ducky tour," said Stewart. "Sometimes we'll design an excursion to fit the interests of a certain group, and we may also base it on their level of English skill." A recent exchange group toured Amish country while another group visited the Carnegie museums.
On the weekends, students spend time with their host families who plan weekend activities. "The rest of the time that they are visiting, students shadow their host siblings, attending classes and participating in school life," said Stewart. "We stress that they are here to see typical American daily life—whatever that may be for the host family."
The school finds that offering faculty- or parent-led specialty classes helps their exchange program stand out. "Recently, a parent who's a wonderful baker hosted six Barcelona students for cupcake-baking sessions," said Stewart. "We've also added a special class for our visitors entitled 'What Does it Mean to be American?' led by Dr. Jon Cassie, Head of Senior School. This class allows for a lively discussion of cultural differences that the students have observed."
The Fruehauf family hosted an exchange student last spring. Their French exchange student, Lina, adapted quickly to American life, including new favorites homemade pancakes and chili. Anne Fruehauf and her daughter, Sarah, loved sharing (and translating) recipes and experiencing American culture with Lina. "The school scheduled many wonderful sightseeing trips, but we also had fun doing simpler activities, like going to an American movie and dyeing Easter eggs, which Lina loved. She took a kit home with her to dye eggs with her family for Easter," said Anne Fruehauf. "It was wonderful to show off all of the beautiful sights and culture that our country has to offer."
Winchester Thurston School has a partnership with Peking University Elementary School (PUES) which sends 30 to 40 fifth-grade students to America for a two-week immersion program. "This is a very young age for cultural immersion, and it is a unique aspect of the program," explained Nancy-Rose Netchi, director of marketing and communications.
Now in its third year, PUES' students stay at Camp Guyasuta during the week while taking classes at Winchester Thurston, which are observed by PUES teachers. "There are team-building experiences during the two weeks which include going to the school's north campus and participating in games designed to help students understand each other's cultures better," said Netchi. On weekends, the students stay with Winchester Thurston families.
While the students and programs vary between the schools, both Stewart and Netchi agree that culture immersion is the overall goal. "The purpose of offering these exchanges is to promote the kind of personal intercultural connection that happens when you are immersed in another culture," explained Stewart.
And it seems that everyone benefits from being involved in the exchange. "The advantages of opening your home and your family life to a stranger are many," added Stewart. "And it's humbling to be hosted by a stranger and to be welcomed into someone's family."