What Does Mayor Peduto Have Planned for Pittsburgh?
Sep 30, 2014 01:07PM ● By Jack Etzel
Becoming the 60th mayor of Pittsburgh this past January, Bill Peduto has supporters and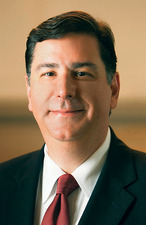 opponents agreeing on at least one thing: He is not your typical mayor. Steeped in practical and academic political expertise, Peduto worked in Washington, D.C., as an intern in the House of Representatives while in his 20s, was a political director for acting Pennsylvania Governor Mark Singel, and worked as a staffer and member of City Council for 19 years. Now that he is at the helm of this great city, we wanted to know what he's thinking.
North Hills Monthly Magazine (NHMM):
Why should those of us in the North Hills, or in the state, for that matter, care about what happens in the city of Pittsburgh? Why is it important?
Mayor Bill Peduto:
Jack, we thrive and survive in good and difficult times as a region. There's no way to separate ourselves out, no matter where we call home and where we sleep at night. It really is one region. People from afar don't view us as all these separate, different entities. They view us as Pittsburgh. I come from a unique perspective because I happen to be the first mayor in well over 100 years who wasn't born in the city. I come from a far off land called Scott Township. It wasn't until 1983 when I started out at Carnegie-Mellon that I moved into the city.
Our home was close to the border with Carnegie. One winter, I asked my dad why the snowplows always pull up their plows when they go down our street. He explained that they were Carnegie trucks, and that they would continue plowing when they got back onto their own streets. My point is, the sooner we start to think of ourselves as a region, the sooner we're going to be able to put the plows down while the trucks are driving, so to speak. We will start to do all kinds of things and solve so many problems more efficiently. Why is the city important? It's important for the entire region. No organism or organization can exist without a healthy heart, and Pittsburgh is the heart of this region.
NHMM:
Does the idea of a consolidated city and county ever cross your mind?
Mayor Peduto:
Yes, but there is an opportunity to do that in our own western Pennsylvania way. We do have the most fractionized government in the entire United States and that makes no sense. I spell that s-e-n-s-e and c-e-n-t-s. We can keep those governments created in the 17th century by declaring that from this rock to that tree shall be known as 'McKees Rocks'—borders like that can stay intact. But at the same time, let's begin thinking about how and where we can share services.
People identify with uniform services; they want their own police forces, fire departments and garbage pickups, for example. But I haven't heard many say that they really want to keep their purchasing departments or their law departments. When we consider those departments of local governments that we don't usually think about, we can think about commonality in the North Hills, South Hills, airport corridor, Mon Valley and other areas, including the city of Pittsburgh. What we'll end up doing by sharing services is creating far less cost to taxpayers, while preserving the identity of these municipalities, townships and boroughs. Let's move to that and then see where we are. Right now, we're all just wasting money.
NHMM:
Having said that, what is on your agenda for the next year?
Mayor Peduto:
The city of Pittsburgh is doing great in the sense that we continue to get on lists of top 10, top five, best in the country and so on. We're on a projectory with this new economy with the 'meds and eds' and technologies doing very well. There is an entire part of the city that is going to do well no matter who the mayor is, but that's hardly the whole story. One of the primary jobs that I have to do—as we do all the different parts of building this 'New Pittsburgh'—is to make sure that there is a ladder for those who have been left behind so that they can be a part of it.
NHMM:
How do you do this?
Mayor Peduto:
The primary ingredient for that is education. That's the long term, but it is also the best way. The first thing that we want to do is to start with the very young, the Pre-K, yes, 4-year-olds. This will put us in competition on the national level in order to get grant money from the White House. The goal is for us to see that our 4-year-olds start out of the gate with the same opportunities. Following that, we want to see that those who are neither part of the Pittsburgh Promise or not on a path for college education find the vocational training that will match them directly to jobs that are already here. Finally, we want to provide them with opportunities through a lifetime. Education for anyone is not something that should stop at the age of 20, or any other age. I went back to get my master's degree at CMU when I was in my 40s.
Ed. Note: This is part one of a two-part interview. Mayor Peduto's interview will be continued in the November issue of North Hills Monthly magazine.