Nest Expressions Expands to Include New Retail Location
Sep 30, 2014 12:50PM ● By Vanessa Orr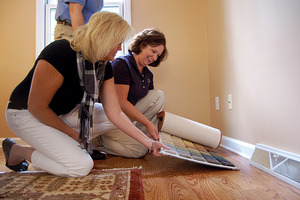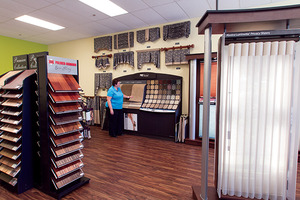 For more than three decades, Bob and Janine Klein have been working in the flooring industry—the last 16 years as owners of their own business. But despite numerous awards from such prestigious institutions as Angie's List and Houzz, the couple is not content with just maintaining this level of success; they are always striving to bring new, innovative home decorating ideas to their customers.
As a result, the Kleins recently opened their first physical retail location, Nest Expressions Window and Flooring Fashions, in the Village at Pine in Wexford. Working in partnership with Hunter Douglas, the gallery gives customers the opportunity to view full-size window and flooring displays to get ideas and find inspiration.
"We continue to be fully committed to the personalized shop-at-home service that we've always offered; a visit to the gallery is just the first step in that process, which ultimately will result in us going to customers' homes to coordinate fabrics with their existing furniture and lighting," explained Bob Klein. "The gallery represents another option for our clients that we hope will stimulate a creative dialogue."
As the owners of a Carpet Network franchise, which they opened in 1999, and now as the owners of Nest Expressions, the couple has always put their clients' needs first. "We owned the Carpet Network franchise until December of 2012, when that company merged with another franchise," explained Bob. "We had the choice to remain with them or go independent, and we chose to rebrand ourselves as Nest Expressions because we wanted to expand significantly into the window fashion side of the business, providing a range of products for our clients decorating their 'nests.'"
The couple will continue to run the van-based, shop-at-home service in addition to their new retail location, which opened July 7. A number of official grand-opening events will take place in October, including a ribbon-cutting featuring local dignitaries, and a package of special offers for customers that will run from October 1 to November 15—just in time to get the house ready for the holidays.
Approximately two-thirds of the gallery is dedicated to Hunter Douglas window fashions and one-third to carpet and hard surface products such as luxury vinyl tile, laminate and hardwoods. Soft window treatments such as draperies and valances will also be on display.
"Having these full-size displays will help us get an idea of each customer's objectives, and the type of functionality that they require; for example, do they want window coverings that provide light control or privacy? How do they want to control that light? Are they looking to create a casual setting or a more formal, elegant look? The displays enable us to show them the products in an easy-to-understand, practical way," said Bob.
Unlike a big box store, the staff at Nest Expressions has been specifically trained on all of the flooring and window fashions offered, which is one reason why the company has received many accolades over the years. "In addition to winning numerous awards for sales excellence and customer service when we were part of the Carpet Network franchise, we have also received the Angie's List Super Service award in flooring for the past five years and in window treatments for the past two years," said Janine Klein. The company also received the Best of Houzz award in 2014.
"The hallmark of what we do is not what we sell, but how we sell it," added Bob. "Our process is different than most retailers in the industry. As the owners of the business, we handle practically every sales consultation that takes place, and supervise it through ordering, scheduling and the installation process. This personal level of attention exceeds anything that our competitors can do and results in an extremely positive experience for our customers."
Before suggesting any type of product, the Kleins get to know each customer personally. "We are careful to take a considerable amount of time in the interview process to make sure that the products that the client ultimately selects will do what they want them to do," said Janine. "No two households are alike, so we spend time talking about their family makeup, their lifestyle and what they are hoping to achieve. That way, we can make a professional, informed recommendation that will meet their needs in the best possible manner."
Even after the sale and installation, the customer service continues. "In addition to a handwritten thank-you card, each customer gets a survey card on which they rate us on our service," said Bob. "We actively solicit feedback from our customers, because we want the experience to be as pleasant as possible for them."
After 30 years in the business, the Kleins obviously know what works. More than 70 percent of their customers are made up of repeat or referral business.
For more information about Nest Expressions, visit
www.nestexpressions.com
or call 724-449-1100. Customers can also visit the new gallery at the Village at Pine, 2000 Village Run Road, Ste. 207, Wexford. The gallery is open M/W/F from 10 a.m. to 5 p.m.; T/Th from 10 a.m. to 8 p.m. and Saturday from 10 a.m. to 4 p.m. The gallery is closed on Sunday.
This advertorial has been provided by Nest Expressions.