Butler Health System Makes Stars Out of Staff and Therapy Dog
Aug 29, 2014 08:58PM ● By Jill Cueni Cohen
The Education and Clinical Advancement Center at Butler Health System is known throughout the community for offering a variety of educational experiences in their community classroom. They're also known throughout Butler Memorial Hospital as the people who provide and coordinate education programs for all of its employees.
Each year, the hospital's employees are required to learn a variety of hospital safety practices. According to Registered Nurse Sharon Feehan, clinical advancement liaison, her department is constantly in search of creative ways in which to educate employees. "We used to give them a printed packet, which they would read before taking a written exam; then we tried a computerized online test. We're always looking for different ways to deliver education so that people will remember what they've learned," she explained.
Last year, the department decided to do something completely different and make a video…using their department heads as stars. "People learn in different ways, so we also provided a printable format, like a newsletter, for people who prefer that, but the video was a huge hit with employees," noted Feehan.
The video was so successful that they decided to film a second video last month featuring one of the hospital's most loveable volunteers: certified therapy dog Beretta. According to his owner, Dr. Ann Gatty, Beretta—a Great Dane—makes weekly visits to the hospital and comforts patients with his canine empathy. In the video, he's taken on the additional task of leading the employees through the hospital on a mission to educate.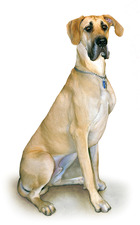 Karen Bosley, director of workplace wellness, has performed in both videos. Along with her colleagues from a variety of disciplines and departments, including housekeeping and administration, among others, Bosley teaches employees what they need to know about staying healthy at work. "I know that I learn better if I can see it and participate in it, and the video was well-received," said Bosley. "Typically, when the employees are faced with mandatory education topics, they think 'oh, not this again,' but this was actually fun. Because you do know who the people are in the video, you can better relate to it."
Last year's video followed the story of a little boy and his father as they tried to find the boy's mother, who had just had a baby. "The two went into different offices, and one was employee health," recalled Bosley. "I used the opportunity to talk about blood-borne pathogens and other things. Then they'd go to the next office and learn another mandatory topic. It captured your attention from the beginning, because you wanted to see the outcome. It was also very interactive to see people who work in the hospital talking about their areas of expertise."
In the latest video, Beretta becomes the 'human' interest story in the heart of the communication materials, according to Feehan. "Instead of dictating the information, we wanted to make it a story line," she explained. Approximately a half-hour long, the video has been successful at engaging employees to learn about hospital safety practices, including fire safety, infection prevention, service excellence, patients' rights and responsibilities and confidentiality practices. But it's also had the ancillary effect of helping the hospital's employees get to know each other better.
Bosley says she was very comfortable filming the video, and no one was camera shy. "They had 15 to 20 employees in the audience while we were filming, and they were all familiar faces," she recalled. "I recognized them because I see them every day, even if I didn't know them. So, I wasn't nervous about it, and no one else was either.
"It was funny, because at the end of last year's video, they put in outtakes of people flubbing their lines, and it was really cute," she added. "There was one of me stumbling over a tongue-twister. That made the video end on a really upbeat note."