Harmony Remembers Hurricane Ivan
Aug 29, 2014 08:58PM ● By Jill Cueni Cohen
It's been 10 years since Hurricane Ivan barreled into western Pennsylvania and caused flood waters to engulf the land surrounding the Connoquenessing River, invading the homes and businesses of the tiny historic town of Harmony in Butler County. Another smaller flood hit the already devastated area less than two weeks later.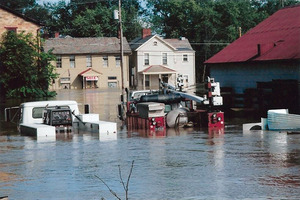 "We had 200-year rainfalls in 10 days," recalled Rodney Gasch, Historic Harmony board member and chairman of Rise Above the Waters—10 Years After Ivan, a flood commemoration event that will take place in Harmony on Saturday, Sept. 27 from 10 a.m. to 4 p.m.
Back then, most of the creekside homes in the Porters Cove neighborhood off of Hartmann Road had to be evacuated as acres of water covered the land. Many residents and business owners in Harmony were forced to seek shelter elsewhere and faced months of clean-up and rebuilding. "Harmony's fire chief spent a week-and-a-half pumping out basements and rescuing people," Gasch said, noting that Grace Church became the central place for residents to seek aid and hot meals.
One decade later, the town is looking forward to joyfully celebrating their rise above the devastation with water-themed art, food, music and activities. The event will include a kick-off parade featuring a 5-foot high yellow duck created by students from Connoquenessing Valley Elementary School.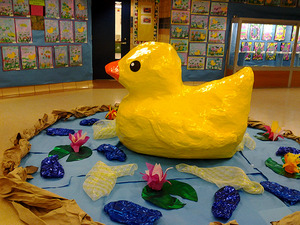 "I called art teacher Clare Torso, who had held a water-themed art show this spring, and I asked if she would store the duck and most of the artwork until September," said Gasch. "The event grew from there."
M. J. McCurdy, owner of Bottlebrush Gallery on Main Street, wasn't around for the flood, but she's been instrumental in bringing even more art into Harmony to commemorate the event. "M.J. is providing an installation art piece that we'll put on the square, and she is organizing some other outdoor sculptures, including those of en plein air artists who will create their masterpieces 'in the open air,'" said Gasch.
Organizers also plan to have a thank-you remembrance wall. "This will be an area where people can write their flood memories and say thank you on a commemorative banner," said Gasch. "It will then be preserved as a living history wall."
Although it turned on them 10 years ago, the environment will also be celebrated. "Creek Connections, which is group affiliated with Allegheny College, will give seminars on the creek and its aquatic life," said Gasch, adding that the group will display creatures and plants from the creek. "Mike Cornell, a volunteer with Venture Outdoors, will also do a history walk to talk about what happened during the flood and how people dealt with the town's revitalization."
Gasch noted that Harmony residents have recently been concerned about a new development proposed in the nearby flood plain. "Since the flood, bits of the flood plain have been filled in, and now there's a huge apartment complex proposed that would fill it in even more," he explained. "In light of that, we want to also educate people about the impact flooding and the flood plain has had on Harmony."
Sponsored by WesBanco, the Venture Outdoors climbing wall will be open from 11 a.m. to 3 p.m. during the commemoration so that people will be able to climb as high as the flood waters. "There is a river gauge in Zelienople which is an official gauge of how high the river rises," said Gasch. "According to that gauge, the flood waters reached something like 19 feet. The wall goes to 24 feet, so people will be able to climb to the height of the flood."