Repurposing and Upcycling – Finding New Ways to Use Old Treasures
Aug 29, 2014 08:57PM ● By Veronica Tucker
What do the words repurposing and upcycling mean to you? While fairly new to our language, these terms are increasing in popularity as creators, artists and storeowners are living them daily.
Repurposing, a term coined in the mid-1980s, is defined by
Webster's Dictionary
as "changing something so that it can be used for a new purpose." Upcycling, which was first used in the early 2000s, is defined as "a process that uses goods or material to produce something that is often better than the original."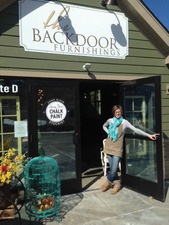 These terms come to life in four local shops: The Backdoor Furnishings in Wexford, IDEAS Vintage Market in Sewickley, Modern Yesterdays in Wexford and Repurposed in Northway Mall on McKnight Road. While each store is unique, all four work to help the environment and the community by recycling old goods into new.
The Backdoor Furnishings, which also has a store in Boardman, OH, is a large retail store with the feel of walking into a hands-on art studio. It is very unique in that it is the only Annie Sloan® chalk paint stocklist in the Pittsburgh area. The uses of chalk paint are endless, and the showroom contains many custom chalk-painted furniture pieces and accessories available for purchase.
"Annie Sloan® chalk paint has been marketed in the United States for six years, and this no-odor, water-based paint can be applied to any finish," explained Kimberly Starr, The Backdoor Furnishings' owner. "No sanding or stripping is required! Projects are complete in a couple of hours and the end results are amazing!"
Workshops are held weekly, which allow customers to participate in the upcycling process. While a big part of the fun can be in the hunt for that perfect piece to transform, Starr most enjoys watching the creative process come together. "To use chalk paint, all you have to be able to do is hold a paintbrush," she said, "and anyone can do this."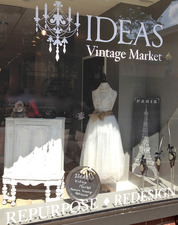 IDEAS Vintage Market Sewickley is owned by Judith Minegar. A native of Pittsburgh, Minegar was influenced by her parents who grew up during the Depression, and she hates to see anything wasted. "It is almost a sport for me to find a new purpose for items that have been discarded," she shared. "Instead of seeing chipped paint and decay, I can picture what things might have looked like when they were new and what they could be again with some TLC."
In addition to a gallery with items for purchase, Minegar provides comprehensive furniture painting workshops at IDEAS, giving others the opportunity to transform their own pieces. "Our slogan at IDEAS Vintage Market is 'Repurpose. Redesign, Rediscover,'" she said. "We are proud to recycle hundreds of pieces of good, American-made furniture by painting them with nontoxic, no-VOC chalk and milk-based paints, which keeps them out of landfills." IDEAS carries Maison Blanche chalk-based paint in 42 colors, along with seven colors of wax.
"IDEAS Vintage Market is about the collective ideas of everyone who enters our shop," added Minegar. "Everyone has an artist living inside them just waiting to come out. We are here to provide the materials and the place to make that happen!"
Sona Kennedy remembers creating things with her four sisters when she was a young girl, and it only followed naturally that this would someday lead to a career. Her affinity for creativity has now materialized in the form of Modern Yesterdays, a totally 'green' shop founded in January 2014 that focuses on recycling, renewing, repurposing and rediscovering. The store also gives back to the community by donating clothing and other items to local charities and families in need.
"At Modern Yesterdays, we have a team of 'upcyclers' who love to seek and find pieces that can be totally transformed, upcycled or repurposed for resale at the shop," said Kennedy.
As its name implies, Modern Yesterdays offers a mix of new and old. "We have a very eclectic look with something for everyone," said Kennedy. "Our products range from jewelry and clothing to flippin' cowboy boots, barware, chandeliers and even man-cave items, including an old organ that was repurposed into a bar. We truly have something for everyone."
Repurposed is an upcycle organization that focuses on improving not only material goods, but the community at large. Started by a nonprofit organization called Living in Liberty, the store's proceeds help to facilitate the restoration of dignity and freedom to women and children who are victims of human trafficking by creating a loving and nurturing community that is safe and secure.
"As a volunteer-based company, we are continuing to work to build our team since our location opened last December," said Store Manager Autumn Bullion of this fairly new addition to the recycling world.
In addition to the thrift store, which collects and resells clothing, shoes, housewares and furniture, Repurposed also has a café area. "It is a great place for people to get something to drink and get some work done," said Bullion. "We hope to continue to grow while helping victims of human trafficking and helping the environment."
For more information on any of these establishments, visit:
• Backdoor Furnishings:
www.thebackdoorfurnishings.com
• IDEAS Vintage Market Sewickley:
www.ideasvintagemarket.com
or
www.repurposepittsburgh.com
• Modern Yesterdays:
www.modernyesterdays.com
• Repurposed:
www.repurposedforyou.org
Recycling Fact Sheet
Everyone knows that recycling is good for the environment, but do you know why? According to Pittsburgh's Office of Sustainability:
•    Recycling prevents pollution and resource destruction. Using recycled materials in place of virgin materials avoids the environmental damage caused by material extraction, like mining and logging. Using recycled cans instead of extracting ore to make aluminum cans produces 95 percent less air pollution and 97 percent less water pollution. Producing recycled white paper creates 74 percent less air pollution and 35 percent less water pollution than making paper from virgin fibers. By recycling 42 million tons of newsprint in 2005, Americans saved 714 million trees and 292,026 gallons of water (Recycle Indiana).
•    Recycling saves energy. By recycling approximately 30 percent of our waste every year, Americans save the energy equivalent of 11.9 billion gallons of gasoline. Recycling plastic uses roughly 10 percent of the energy that it takes to make virgin plastic. Similarly, recycling glass uses only two-thirds of the energy needed to make it from raw materials, and recycling paper uses approximately 60 percent less energy than making it from scratch.
•    Recycling creates jobs. For every job at a landfill, there are 20 recycling processing jobs and 25 recycling-based manufacturing jobs. (Eco-Cycle)
www.pittsburghpa.gov/green/recycling.htm
Ed. Note: Because so many stores in the North Hills are repurposing and upcycling, a second article on this trend will run in our October issue.