ThistleSea Business Development Coaches Clients to Abundance
Aug 29, 2014 08:56PM ● By Vanessa Orr
One of the secrets of being a successful business owner or executive is knowing when to ask for help—especially when preparing to take yourself and your business to the next level. Having an outside point of view can help you see your business in a different light, and enable you to make the changes needed to create a more prosperous, profitable business, and in turn, a more abundant life.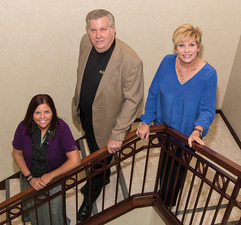 "Typically, our clients are already successful business owners and individuals who have grown to a point, but realize that to grow to the next stage, something has to change," explained ThistleSea Business Development President and business coach John D. Laslavic, LPBC. "Our goal is to find out what they want to achieve and to help them get there, using their business as a vehicle."
As a business coaching, strategy development, and training and business services company, ThistleSea works with clients to identify areas of improvement and areas of growth. "Businesses cannot grow unless they are in balance," explained Laslavic. "And while many of our clients are great at one or two areas of their businesses—such as sales and marketing, accounting and finance, or the technical aspects—they don't spend as much time working on the others. Through the process of coaching, we look at all of these areas and figure out how to achieve balance, and then apply best practices in every area."
According to ThistleSea Vice President and business coach Wendy Lydon, LPBC, most business owners and executives have a fairly good idea of what areas need the most attention. "We have the processes and systems in place to help them, but they lead; we focus on their agendas," she explained. "Depending on the particular business, they may want to increase revenue, expand territory, start a new product line or add staff, which is why we customize our services to their needs. Our goal is to help each client create the business that will give them the life they want."
Both Laslavic and Lydon have decades of experience in the business world, working for both profit and not-for-profit companies, as well as for retail and corporate entities. Laslavic, who holds degrees in business management and economics, started and successfully grew five companies during his 30-year career, which included cofounding Amerinet, a leading health care GPO (group purchasing organization). He also co-authored a business plan for a start-up software company, raising over $5.5 million in institutional venture capital.
Lydon, who holds degrees in business and information systems, has more than 30 years of experience in business, association management and consulting with a particular focus on sales leadership, sales management and team mentoring. During her career, she was responsible for growing a new venture within an organization to more than $350 million in sales. At ThistleSea, Lydon also specializes in behavior education, training and analysis—helping individuals and clients with better communications, relationship building and effective interactions.
Tiffany Booth is also a member of the ThistleSea team, and has masters' degrees in both business and education. She leads the training and development focus for the firm and provides training and education for clients relating to customer service, staff development and technology-specific tools and products. "Tiffany provides ThistleSea with even deeper bench strength," said Laslavic.
"One of the reasons that I started this business was that I saw a great need for business owners to understand the complexities of the business side of things versus the technical side of things," explained Laslavic. "Quite frankly, the principles that we teach—the information that we provide—is not really taught elsewhere; our clients are very highly educated in a particular area or craft, but have never been provided with the business knowledge they need."
"Many of our clients are professionals who have very good professional and technical skills, such as attorneys, physicians, engineers, plumbers and manufacturers, which is why they choose to start their own companies," added Lydon. "But they've never been focused on running a business; they've been focused on learning and applying those skills to serve their clients. We understand what they're going through—many business owners feel very alone. It's important to us that we build relationships with our clients that enable them to feel a level of trust and confidence with our team and services—they know that they can rely on our knowledge and support."
Clients who work with a coach can choose to do so either weekly or biweekly, and are provided with a Business Effectiveness Evaluation by ThistleSea, which focuses on 10 fundamental areas including human resources, leadership, finances and business systems. Clients self-evaluate their businesses against 90 best practices to determine high-impact areas for improvement, after which ThistleSea provides them with a business 'report card' of recommendations. "There is no silver bullet; balancing these different areas of a business takes time," said Laslavic. "But once we've developed an action plan that the client can follow, and they direct their energy in that way, they do see significant results."
Business owners who want to get an idea of what types of help ThistleSea can offer can also get involved in a 12- to 13-week group coaching program, which the company is introducing in conjunction with the Pittsburgh North Regional Chamber. "During the program, business owners learn about leadership, human resources, business systems, profit margins, marketing, sales, customer service, financial management and personal and worklife balance," said Laslavic. "They receive basic principles of each area, which they can use to help their business get better in a specific area, or they may choose to work with us to receive one-on-one coaching and strategy development and implementation.
"The highest performers in every profession or area—whether you're talking businesses, sports or the arts—benefit from the addition of a coach," he added. "It's the one common denominator."
For more information about ThistleSea Business Development or to schedule a complimentary session, visit
www.thistlesea.com
or call 724-935-1930 or 888-559-7478.
This advertorial has been provided by ThistleSea Business Development.