Parents Can Check In on Babies 24/7 through New NICVIEW Webcams
Jul 30, 2014 11:22AM ● By Hilary Daninhirsch
NICVIEW allows parents to monitor newborns 24/7 through computers, tablets or smartphones.
Bringing a baby into the world is undoubtedly one of the most exhilarating, exhausting and emotional experiences on earth. Fortunately, most babies are born healthy, without need of further hospital care. But when a baby is born prematurely, or with other health issues that require neonatal care, new parents must undergo a forced separation from their newborns.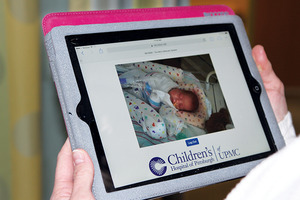 To help ease the anxiety that this separation entails, Children's Hospital of Pittsburgh of UPMC and Magee-Womens Hospital of UPMC have installed webcams in the NICU units, called NICVIEW, so that parents can see their babies even when they can't be with them.
"These cameras are so important; babies may be displaced from their mothers while they are still recovering post-partum. These cameras allow a visual connection with the family that provides a source of comfort," said Dr. Beverly Brozanski, medical director, Children's Neonatal Intensive Care Unit.
"Sometimes the mother may have to return to work, or she has other children at home. It gets very grueling as the weeks and months go on. This is a way to help her stay connected with her baby in the hospital," Dr. Brozanski added.
Thirty-one cameras are currently set up at Children's, one in every ICU room, and Magee has 32 cameras. The cameras only stream live action; nothing is recorded, nor are voices picked up. At Children's, parents can log in six times throughout the day and night, for up to two hours at a time.
All that is necessary is an Internet connection and a log-in identification password; for security purposes, only the parents are provided with the password, but they are free to share the information with grandparents or other family members. The webcams can be accessed through any computer, tablet or even a smartphone.
Of course, parents are allowed to visit their babies in person 24 hours a day, seven days a week. But this can prove to be challenging, particularly if the length of the NICU stay is extended. The cameras also help post-partum mothers keep connected as they recover themselves. "Our hope is that the camera system brings them peace of mind so that they are not neglecting their own health and needs," said Peg Lamouree, RN, MSN, unit director of Children's NICU.
Between Magee and Children's, approximately 2,400 babies are admitted to the NICUs annually. The average length of stay in the NICU is 15 to 16 days, though that time can range from a few days to even 9 or 10 months.
To date, there's been nothing but positive feedback. "Families have expressed that having family members see their babies helps them to understand what the parents are experiencing," said Brozanski. Relatives of babies from 40 states and three countries have already logged in more than 27,000 times to the webcams at Children's, which were installed in January after a brief trial run last December.
The philosophy behind the camera system is simple: to help families. "This is a very stressful time for them. This is not an experience that anyone plans for. It's very important for us to do what we can, to ease that burden, that stress level for the families, to help them stay better connected with the health care team, and to feel that they are involved with decision making," explained Lamouree.
"UPMC's newborn medical model of care is really family-centered, as is the hospital's, so we are united in that. This is a wonderful extension of that model using available technology," added Brozanski.
Brozanski said that Children's and Magee are the only two hospitals in the area to have installed these cameras so far, though others around the country are beginning to implement the same type of system. The webcams at Children's were made possible through a grant by the Snee-Reinhardt Charitable Foundation.