Graduation Projects Benefit Students and the Community
Jul 30, 2014 11:01AM ● By Jill Cueni Cohen
Graduation projects could become a thing of the past, since adoption of the new Pennsylvania Core Standards, which are based on the national Common Core Standards, will phase out that requirement. However, many groups that have been involved in helping students complete these assignments believe that these projects are as important and relevant as ever.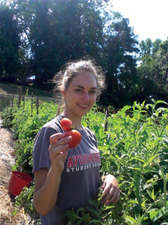 According to High School Principal Ken Lockette, Avonworth's senior projects started off many years ago as the focus of a paper for English class. "We wanted to put more teeth to it," he said, recalling the state mandate that influenced the school's decision to require their graduates to spend up to two years preparing a senior project.
Pennsylvania school code requirements through the 2015-2016 school year include the mandatory completion of a culminating project. According to the code, the purpose of the culminating project is to assure that students are able to apply, analyze, synthesize and evaluate information and communicate significant knowledge and understanding. However, there is no such mandate for 2017 graduates.
Removing the graduation project requirement was just one part of a sweep of changes that will focus on new testing systems and additional graduation requirements, explained Lockette. "But we found graduation projects to be very valuable, and we want to continue them," he said, noting that Avonworth juniors can choose their project from one of three categories: community service, entrepreneurship and career profile or study. "The majority of students do community service, but we're trying to promote the entrepreneurial projects."
Lockette says that it's important for teens to work on projects that are not related to school. "We want to push kids out of the school and require them to have an outside partner and create a portfolio to show their work," he said. "Most get the ball rolling in junior year, and some kids present it then, but most present it in senior year. They hold formal presentations in which outside people, like their mentors and community leaders, are invited.
"They probably don't like the presentation part of it with adults judging them," Lockette acknowledges, "but we want them to be in that uncomfortable zone. For the most part, they enjoy it and are proud of themselves when it's over."
While graduation projects help demonstrate students' abilities to apply and evaluate knowledge gained in high school, there's also another level of learning that takes place. According to Cassandra Dixon, director of development and volunteer services for Animal Friends, students are exposed to a new level of understanding through projects that introduce them to the real world in a real way. Last year, Animal Friends sponsored approximately 20 graduation projects in addition to supporting Eagle Scout and gold award projects for Girl Scouts.
"There are many moments when we're stopping to teach about more than just caring for homeless pets," said Dixon, noting that students are exposed to the inner workings of an animal shelter. "We've taken it upon ourselves to be more than just a mentor; we talk about how to leave a voicemail, how to write an email, and professional courtesy in responding to emails. We explain that this is not like texting, that there are different standards."
With a large volunteer core, Dixon says that Animal Friends relies on students to learn from tenured volunteers and become the next generation of animal advocates. "Some of our retirees are here 40 hours a week, and they are so valuable that I look for them to work alongside the next generation to mentor and continue those people coming in year after year," says Dixon, noting that Animal Friends focuses on the value of having a diverse group of volunteers and has actively recruited teens in the past.
However, she recognizes that the change in graduation requirements will affect nonprofit organizations like Animal Friends, which rely heavily on volunteers. "As we move into the fall, it will be interesting to see how many students come in to do projects," she said.
North Hills Community Outreach in McCandless also relies heavily on youth volunteers. According to Development Manager Jennifer Drayton, students make up approximately one-third of the organization's volunteers. "Volunteering gives kids a chance to learn leadership skills and helps us help others with a variety of services, especially our food and clothing collections," said Drayton. "In fact, students have been very involved with implementing our garden, and they often come up with unique ways to support us that we hadn't ever thought of.
"I think it's important that youth have volunteer experiences and learn to be civically engaged," Drayton said, adding that such experience looks great on college and job applications. "They might be forced to do it initially, but once they come here, they usually want to come back. That's so important, because these are our future leaders and philanthropists."