Patient Education and Community Service Motivate Owner of Francis Audiology Associates

Jul 30, 2014 10:38AM, Published by Vanessa Orr, Categories:
---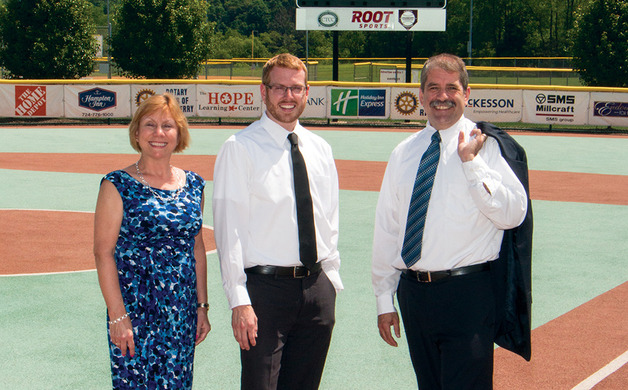 Administrative Assistant Carol Langer, Jeffrey Boren, HIS, and Dr. R. Patrick Francis stand at Miracle League Field. Photos provided by Alicia Photography.
---
---

For the past eight years, Board Certified Audiologist Dr. R. Patrick Francis has educated hundreds of patients about the benefits of better hearing, and how hearing aids can be used to improve their quality of life. As a member of the Sunrise Rotary Club in Cranberry, he has also helped further the education of children both at home and abroad.
"I first started my practice after working for 18 years with physicians in Pittsburgh hospitals and medical offices, where I realized that to truly help the hearing impaired, you need to spend a lot of time working with patients and their significant others," explained the owner of Francis Audiology Associates in Wexford, PA. "You need to educate patients on hearing loss and discuss what options are available to them; to reintroduce them to the world of sound to once again bring joy into their lives."
Dr. Francis, along with Jeffrey Boren, HIS, helps patients with many different types of hearing needs find the appropriate solutions. Additionally, administrative assistant Carol Langer not only manages the paperwork, but is helpful in troubleshooting questions over the phone. "Our goal is to provide first-rate hearing health care," explained Dr. Francis, who has recently expanded his practice. "Many places will sell you a product, but do not invest the time or use the tools available to ensure maximum benefit. Everyone here is actively involved in patient care in order to offer 'first-rate hearing health care' to all of our patients."
Before recommending any type of intervention, Dr. Francis takes the time to get to know the patients' needs—not just from a physical standpoint, but from an emotional one as well. "It's all about what's important to that person—are they active socially? Are they in a lot of challenging hearing situations? Is it more about hearing the TV or the telephone? Do they need to hear better for work-related reasons or social events? You need to spend time to find out what their priorities are."
Some needs, although important, may have a simple solution such as a telephone amplifier or basic amplification for home use. Other situations require more flexibility. A taxi driver, for example, may need to be able to understand what people say when seated behind him. Or a person may not want to deal with daily hearing aid maintenance. "The taxi driver could benefit from hearing aids that have the ability to focus backwards, and there are extended wear hearing aids for that segment of the population that doesn't want to deal with daily maintenance, yet have better hearing 24/7," Dr. Francis explained. "There are even hearing aids for those who are technologically inclined that can be manipulated using iPads and iPhones."
Even people who don't want anything too technical can benefit from the education that the practice provides. "People say that they don't want anything 'sophisticated,' but the fact is, the more technologically advanced a hearing aid is, the less the patient has to do," said Dr. Francis. "For example, new hearing aids are designed to automatically change in different settings, such as in a car or a restaurant; the wearer doesn't have to make adjustments because the hearing aid does it automatically."
Because hearing loss is so gradual, many patients don't even realize the sounds that they are missing. "I had one woman come in for her check-up, and with tears in her eyes, she told me that she heard a sound that she hadn't heard since she was a little girl," said Dr. Francis. "The sound of buttering toast instantly took her back to the times she spent in the kitchen with her grandmother. There's so much more to hearing than just sounds—it's a way to stay in touch with the world around us."
In addition to working with people on an individual basis, Dr. Francis is a member and past-president of the Sunrise Rotary Club of Cranberry Twp. and is actively involved in serving the greater community as well. "We are heavily vested in the education of young people, ranging from providing college scholarships to giving out free dictionaries to all third-grade students at Rowan and Haine Elementary school," he said. "We also sponsor a Student of the Month club, where exceptional students are honored at a breakfast held especially for them, and we sponsor students in our Rotary Youth Leadership Awards program as well as the Rotary Outstanding Vocational Awards program. We've also sponsored two high school students to study overseas for a year."
Fundraising activities by the Sunrise Rotary Club help to fund local organizations including VOICe (Victim Outreach Intervention Center) and Gleaner's Food Bank, and have helped in the construction of the Boy Scout Memorial and the Miracle League Field at Graham Park. "Our club was a big part of getting the Miracle League Field accomplished, and it's just so wonderful to go there and watch people cheer on these kids who have physical or mental impairments," said Dr. Francis. "It's a lot of fun for the participants and parents, and I'm really proud that we were a part of making that happen."
The Sunrise Rotary Club's reach extends even outside the North Hills' community to San Luis, Mexico, where members travel every year to work. "Past projects include a computer lab that was installed at Bethel Orphanage and solar panels that were installed in the homes of people without electricity," said Dr. Francis. "Our future plans may include helping to furnish a hospital there."
In the meantime, Dr. Francis will continue to serve the local community and the needs of his patients. "Restored hearing can have a profound impact on many patients' lives," he said. "Improvements in hearing can have a positive impact on both personal and social relationships."
---
---
audiology hearing aids rotary dr francis
---