Tips for Alleviating Back-to-School Stress
Jul 29, 2014 04:15PM ● By Clare Heekin Lynch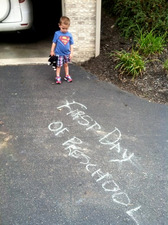 It seems like only yesterday that kids were rejoicing as they celebrated the end of another school year. Now it's August, and the next school year is looming overhead like a lion ready to pounce. "Where did the summer go?" our precious angels cry, as parents everywhere silently rejoice.
Experts advise that August is a good time to start guiding children back into school mode in order to alleviate any stress. Darla Hoss is a guidance counselor in the Seneca Valley School District and has been helping youth for more than 20 years. She shared the following suggestions to help transition students back into a school-friendly frame of mind.
Get on a schedule. "Parents should focus on getting their children's internal clocks set back to learning mode a few weeks in advance of the first day. This means going to bed at a reasonable time and getting up early and eating a good breakfast; all of this will help get the child ready to learn," said Hoss.
Research and gather information.
If your child is attending a new school or facing a new transitional year (changing to the next school building within a district), be sure to attend the orientation as this will help you understand the way the school works. Also, find out the specifics on the school day, including how many periods are in the day, along with the length of the periods.
"You can also contact the school and schedule to meet with a counselor or staff member to visit the school a second time," said Hoss. "Ask questions–we're here to help!"
For older students, anxiety over course loads is common. "Visit teacher websites to help prepare for those AP classes. If you do this together, then your child will not feel like they are walking into something they did not anticipate," said Hoss.
Be organized in every sense of the word.
"I try to help the student assess their past successes and challenges from the prior year and find a pattern or solution that will help build confidence, no matter the age," said Hoss. "If the student is organized and knows what works well for them, they will be successful in meeting their goals."
Prepare a study area at home.
Have all of the student's resources available in one area, and keep that area free of distraction.
Teach ownership.
"While parents may have good intentions in guiding their children in classes and activity choices, teaching students to make their own choices is a confidence-builder," said Hoss.
Know your resources. "Encourage your child to seek out a teacher or guidance counselor if they are struggling. This will empower them later when they go off to college or out on their own, to know that they have the skills to cope and figure out solutions to their needs. There is no shame in asking for help," stressed Hoss.
Amy Lehman, a teacher at Seneca Valley Senior High School, also emphasized the importance of communication with not only your child, but with your school as well. "Kids can be very anxious over the unknown and will pick up on anything a parent knows or any emotion they feel, so parent knowledge and communication is important in alleviating anxiety," she said.
One way to help with this is with 'bridging activities'—reviewing the previous grade level or preparing for the next school year with workbooks and online educational sites. Lehman also suggests keeping children social and active through camps and other activities that offer structure, as this will keep their brains active, too.
Lehman added that preparation is important not only on the academic level, but on a personal level as well. "As a parent, it's important to be aware of your child's surroundings and to be involved—the more you know, the less stress there will be," she said. She suggests that parents of younger kids talk to them about topics including riding the bus and the dynamics that come with being on the bus with kids of different ages.
"As they grow, it helps for children to learn what's going on around them and how, while kids and groups of friends can change and economic situations can change, they should be accepting of everyone," she said.
"Structure, organization and preparation are all tools that can be applied at any age," she added. "By mentally preparing ourselves for the upcoming year, we can be better prepared for guiding and teaching our students."
College 101: Taking the Stress Out of Back-to-School
Going off to college, whether for the first time or as a more experienced student, can be as nerve-wracking as it can be exciting. Colleen Ruefle, vice president for student life and dean of students at La Roche College, offers these tips for preparing for this next step:
1. Get involved.
"Don't go overboard, but get involved in something, whether it's playing a sport or writing for the school paper. Joining an activity will help you get to know fellow students and feel more connected to the school. It can also help with time management."
2. Be patient.
"This is especially important for incoming freshman living on campus because, for most likely the first time in their lives, they are living with someone they don't know—someone with a different lifestyle and background. Communicate your expectations with each other. If a situation arises, talk about it because you can't keep switching roommates over little things."
3. Ask for help.
"Every college and university has people and resources to help you if you are struggling: tutors, counselors, resident advisors, etc. Whether it's for academic or personal reasons, don't be afraid to let someone know that you are struggling!"
4. Be prepared.
"Get your class schedule as early as possible and get books in advance of the first class so that you are properly prepared and ready to learn. Then, be on time!"
5. Connect.
"Social media is a wonderful thing in helping you stay connected with family and friends at home, but it's also equally important to reach out to the people who are there physically next to you. They are a part of your new environment and will help aid in your overall success."
6. Make an effort.
"Professors want to see that an effort is being made on your part, so if you're struggling, talk to them. Do your homework, read the assignments and actively participate. If they see you trying, they will take you seriously. Respect goes both ways: If you do what is asked of you and respect their time they will, in turn, give you respect and do their best to help you succeed.