Prospect League Provides Good Practice for Players, Fun for Community
Jul 01, 2014 12:57PM ● By Mary Margaret Fisher
by Veronica Davidson Tucker
There's nothing better than enjoying America's favorite pastime, especially when you can do it close to home. The Prospect League, a collegiate wood bat league, provides a unique and exciting opportunity for residents of Butler and Allegheny counties to spend the summer cheering on local college baseball players, including the Butler BlueSox.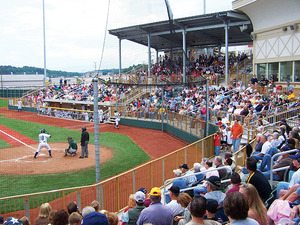 The Prospect League has a three-fold mission: to provide family-friendly, affordable baseball 
entertainment in the communities where teams are located; to provide a summer baseball program for eligible college players to give them experience using a wood bat in a competitive atmosphere; and to provide a venue to allow Major League Baseball (MLB) scouts to watch collegiate prospects using wood bats against live pitching in competition.
"We celebrated our first season in 2009, with the goal of helping potential major league athletes," explained Dave Chase, Prospect League commissioner. "Current college players use aluminum bats. If they become professional, both the minor and major leagues exclusively use wooden bats. This 10-week program benefits both the pitchers and hitters by allowing them to experience the differences that come from playing with wooden bats."
There are about 75 similar leagues across the country; the Prospect League includes 11 teams. The six Eastern Division teams cover Pennsylvania, Ohio, Indiana and West Virginia, and include the Butler BlueSox, Champion City Kings, Chillicothe Paints, Lorain County Ironmen, Richmond River Rats and West Virginia Miners. The Western Division hosts teams from Illinois, Missouri and Indiana and is comprised of the Danville Dans, Hannibal Cavemen, Quincy Gems, Springfield Sliders and Terre Haute Rex.
The league season lasts 10 weeks and is very intense. "The Prospect League runs like the minor league," said Chase. "Each team plays 60 games in 69 days. There is extensive travel, including crossing two time zones. This is a bridge from college to the professional league."
The North Hills is fortunate to have a Prospect League team. The Butler BlueSox has existed since 2009, and after the 2010 season, five Butler County residents—Wink Robinson, Dr. Mike Fiorina, Matt Clement, Gordon Marburger and Roger Snodgrass—acquired 60 percent ownership of the team. The other 40 percent is owned by the City of Butler Parks, Recreation, Grounds and Facilities Authority.
"There is a mutual understanding between college coaches and the league; the college coaches are looking for a way for players to hone and improve their skills, and the team managers are looking for quality kids to play the game," explained Managing Partner Wink Robinson. "It's a coaches' recruiting network and the system works." Players can apply individually, but most placements are made through direct communication between the colleges and the league.
The Butler BlueSox consists of Division I college players who are primarily from the Northeast and Midwest, but it has had players from as far away as California. Rosters are selected in late fall and finished by January, when colleges need to focus on their seasons.
The season runs from May 27 through August 5, and 30 games are played in each city, where the bleachers are filled with true lovers of the game. "If you look at most of the hometowns of our teams, you won't see large cities," said Chase. "Most of these places don't have major league teams.
"The games are fun—kids run around and get autographs. Families have conversations about the love of the game. The older fans experience nostalgia, while the younger fans give the game energy. The games unify the communities, all around the beautiful game of baseball," he added.
The BlueSox, which play all of their games at Kelly Automotive Park, draw fans from both Butler and Allegheny counties. "Our average attendance is 650; however, we can hold up to 1,500 people, and there isn't a bad seat in the house," said Robinson. Ticket prices range from $6 to $8 and can be purchased online at www.butlerbluesox.net or at the ticket window.
You might be wondering…do any of these ballplayers ever make it to the pros? You bet! Since 2009, over 200 players have been drafted or signed into the minor, independent or major leagues. In 2011, a BlueSox player was drafted by San Francisco and has worked his way up to the San Francisco Giants' AA minor league affiliate. "We are predicting an explosion of players making it into the major leagues in the next two years," added Chase.