Project Search Prepares Special Needs Students for the Workforce
Jul 01, 2014 12:57PM ● By Clare Heekin Lynch
For students with disabilities, the transition from school to the workplace can be difficult. This year through Project SEARCH, a program offered in partnership with Goodwill and UPMC Passavant, this transition was made easier for six students from the northern Pittsburgh region.
The Project SEARCH High School Transition Program is a unique, business-led, one-year, school-to-work program that began in 1996 at Cincinnati Children's Hospital Medical Center, and is now offered internationally. The project came to Pittsburgh in 2008, when Goodwill of Southwestern Pennsylvania adopted the idea to move people with disabilities into paying jobs.
"Goodwill's mission is to serve our population by helping improve the quality of life of our community members by offering them the chance to achieve their highest level of success," explained Goodwill of Southwestern PA's Vice President of Human Services Ella Holsinger.
Not only is the program a benefit to students, but to their mentors and employers as well. "The work these students do is so profound; it is not simulated—they are doing actual, important work that needs to be done in order to help the companies they are working for," said Holsinger.
A prime example of the program's success is Robbie Todd, 21, from McCandless, who is a 2013 Project SEARCH graduate and a current UPMC Passavant employee. When Todd completed enough academic credits to graduate from North Allegheny High School, he, like other Project SEARCH participants, deferred his final year at school in order to participate in the program.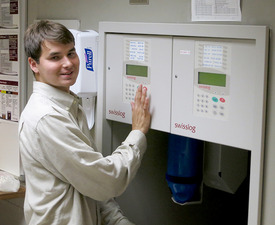 "A hospital can be a confusing place," said Todd, who is employed as a full-time pharmacy courier, "but I'm surrounded by great people and I'm learning a lot!"
After only a year in his full-time position, Todd is highly regarded by his colleagues. "I feel respected here; I help people out around the hospital, and they help me as well," Todd said.
Robbie's mother, Colleen Todd, is a huge supporter of the program. "There are not enough words to say what a godsend this has been to my son and our family," she shared. "As a parent, you worry about your child as they graduate from high school. You worry about where he will fit in in life and if he will be successful, and this is true even more so when your child faces additional challenges.
"Project SEARCH gave Robbie the chance to work on his resume, gain interview skills, and to have regular performance reviews," she added. "Everyone involved gave him every skill we hoped he could develop."
In addition to preparing students, the program also involves their parents. "We attended monthly meetings, which were fantastic because we learned the skills we needed to help Robbie further develop," Colleen Todd continued.
At UPMC Passavant, students start their day in a classroom, reviewing the day ahead or discussing career-related subjects, like resume writing and public speaking. The program also teaches daily life skills, including travel training and safety. Students then work for five hours at their jobs, which can include rotations in emergency, radiology, pharmacy, equipment sterilization, linen, and the food service departments. Participants then debrief and journal their day's experience.
"Project Search provides on-the-job training by teaching routine, repetitive and transferable skills that students may not otherwise have received," said Colleen Sybert, human resource director/co-business liaison for Project SEARCH at UPMC Passavant. And the success rate has been high, with UPMC Passavant's graduating class from last year having a 100 percent job placement rate.
"Most students go on to be hired into jobs where they can earn full benefits and competitive wages on par with rates paid to other employees. We are extremely proud of the many accomplishments achieved by our students," Sybert said.
Project Search is offered at UPMC Mercy and UPMC Passavant, and as a result, UPMC has hired more than 30 participants into the system. While Goodwill is the service provider of the project, UPMC, the Office of Vocational Rehabilitation, the Allegheny Office of Development Programs, and area school districts all provide supporting roles to make it a success.
"UPMC Passavant is a Project SEARCH model, but internships are not just limited to the health care industry," said Holsinger. "We're always looking to develop new programs in other industries, including government, finance and other business services."
For more information, visit www.projectsearch.us.