New Breweries and Distilleries Adding to Pittsburgh's Libations Scene
Jul 01, 2014 12:56PM ● By Hilary Daninhirsch
Prentiss Orr and Barry Young
Pittsburgh beer has come a long way from its Iron City roots, with the city now boasting a large selection of craft breweries. Those who love spirits will also find a thriving distillery scene here, as interest in specialty liquors grows.
Pittsburgh has a long tradition of whiskey making; in fact, whiskey was distilled in western Pennsylvania in the 1700s. Since Prohibition, though, whiskey making has all but disappeared from the area. Bringing this skill back was the goal of Meredith Grelli, who recently opened Wigle Whiskey in the Strip District.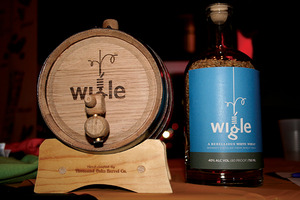 According to Grelli, she and her husband were inspired to bring whiskey back to the area following a trip to Niagara on the Lake. As the owners of the area's first whiskey distillery since Prohibition, they offer public tours and tastings of five different spirits. "Part of our mission is to educate and create interactive experiences for consumers," said Grelli, adding that the distillery also does a lot of programing, including cocktails and bitters classes.
Wigle Whiskey currently produces four kinds of whiskey and two gins, which they finish in different types of wooden barrels for a unique taste. "We are dedicated to innovation," said Grelli. "We experiment constantly. We operate in much the same way as a craft brewery, whose role is to push the boundaries, to create things that commercial distilleries can't because there's not a big enough audience to mass market them."
One such craft brewery is Shubrew in Zelienople, a concept developed by Erika Shumaker and her husband, Zachary, which opened last September. Shumaker believes that Pittsburgh is a great market for craft brewing that has not yet been saturated. One essential element to their business is their restaurant, which offers more than traditional pub food. "Pittsburghers want to eat better foods and more unique types of food; that goes hand-in-hand with craft beer," Erika Shumaker said.
"We've brewed 30 plus different styles of beer; on average, we have five different beers on draft every night. We try to rotate them out, so that when you come in, there aren't always the same beers available to choose from," she added. One of their most surprisingly popular brews has been an IPA infused with habanero peppers, which give it a little kick.
Shumaker credits this innovative approach to their success. "I believe that it's the variety of beer styles that we have to offer and my husband's willingness to experiment with different ingredients and styles," she said.
Another new kid on the brewery block is Roundabout Brewery in Lawrenceville, which opened last summer as a growler shop, though folks can now buy beer by the glass. Co-owner Dyana Sloan said that her husband, Steve, has worked for breweries all over the world, including in St. Louis, where they met, and New Zealand. When they decided to open their own brewery, they knew that Pittsburgh was the place to be.
"Pittsburgh has a fairly good demographic mix: you've got universities, and a lot of people coming into the area for jobs, and still a lot of people who have never left Pittsburgh. Economically, it's an amazing town to move to and start a business," said Sloan.
Roundabout brews seven beers on tap at one time, all of which Sloan says vary in style, flavor and alcohol content. They change their selection every couple of weeks, and you can only get Roundabout beer at the Lawrenceville location. "We like to keep the product here, knowing that this is the best place to try it and taste it," said Sloan.
And if vodka is your thing, Pittsburgh is the home of Boyd and Blair, a Glenshaw-based distillery which was started by CEO Prentiss Orr and business partner, Barry Young. Orr's marketing background and Young's pharmacy background provided the perfect marriage of expertise to establish a vodka distillery.
Boyd & Blair is unique in its use of locally grown potatoes to make their vodka, which is sold internationally and has won numerous awards, as well as the admiration of celebrities. When Jane Fonda was in town to shoot a movie a few months ago, she tried the vodka at a local restaurant, then arranged for a case of Boyd & Blair to be shipped back to her home.
"What's helped us the most is the ratings offered by Paul Pacult, the editor of a noncommercial magazine called Spirit Journal," said Orr. "He reviews spirits from around the world, and he's rated us the top vodka in the world for three years in a row." In addition, Boyd & Blair won the Good Foods Award for Spirits, a national award sponsored by Whole Foods and Williams Sonoma.
While their distillery is not open to the public, vodka lovers can find the product in every PLCB store, as well as in 44 states, two Canadian provinces, and even as far as Hong Kong and Singapore.
Pittsburgh's Libations [5 Images]
Click Any Image To Expand