Barn Raisers Time Bank Provides Free Exchange of Services While Building Community
Jul 01, 2014 12:55PM ● By Vanessa Orr
Imagine having a plumber come in to do repair work, and not having to pay him. That plumber then gets free babysitting services from a stay-at-home mom, who has her computer repaired by a small business owner at no cost. For the past four years, members of the Barn Raisers Time Bank have been able to benefit from these types of services for free by using 'time dollars' that they've banked.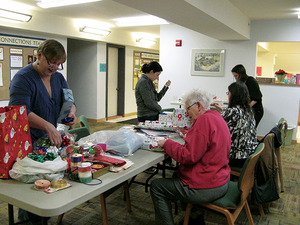 "Barn Raisers Time Bank was started in 2010 by a group at the Unitarian Universalist Church of the North Hills (UUCNH) who were trying to find a way to simplify people's lives, as well as help them deal with the failing economy," explained Rachael Smart, one of the original founders of Barn Raisers who now serves as its administrator. "We now have about 56 members in the group, approximately 35 of whom actively provide services to each other and earn time dollars for their efforts."
For each hour that a person provides a service to another—for example, pet sitting, babysitting, yard work, plumbing and other household services—he or she earns one time dollar, which is recorded in a software program called hOurworld. These hours can then be exchanged for services from another person in the time bank.
"It doesn't have to be the same person that you performed the service for; this is not a one-to-one exchange," said Smart. "It's more like a spider web; people are linked together through different lines in the exchange." No matter what the service provided, every hour of time given equals one time dollar earned.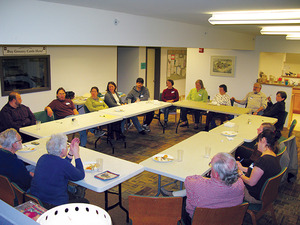 According to Smart, the time bank serves as a way to bring the community together, while also helping those in tight financial situations to get the help they need without it costing money. The time bank is open to everyone who wants to participate; while it was started at the church, membership at UUCNH is not required: approximately 70 percent of its members belong to the church, and 30 percent do not. Once someone becomes a time bank member, they are given access to the software program, where they keep track of the hours that they earn or spend.
Barbara and Mark Draa have used the time bank to receive pet sitting services and more. "We have had wonderful home repair work done, and even 'emergency gardening' before a party," said Barbara Draa. "I've helped decorate for a little girl's birthday party and done a lot of babysitting, and Mark has provided computer repair services."
As the owner of Home Computer Help, Mark Draa brings specialized skills to the group, but every person can provide some kind of service to others. "Everyone has something to offer, even if they don't know it," said Smart, adding that time dollars have been earned for writing resumes, giving rides to those who can't drive, providing massages and decluttering homes. "People on the site can fill out a form telling what services they have to offer, or just send out a request for something to be done."
Draa has been very happy with her experiences with the time bank, both as a recipient and as a giver of services. "I think it builds community," she said. "I've met younger members of the church when I babysat their children who I might not otherwise have gotten to know because we don't operate in the same circles.
"It may seem like you're doing something little for someone else, but it's so appreciated. It feels good to give, especially when everyone is so grateful for the help that they've received."
To learn more about Barn Raisers Time Bank, visit http://barnraisers.weebly.com or email timebank.barnraisers@gmail.com.