The Regatta at Lake Arthur Focuses on Fun, Healthy Living
Jul 01, 2014 12:54PM ● By Clare Heekin Lynch
If you're looking for something fun to do outdoors during the first weekend in August, head north to Moraine State Park and the 16th annual Regatta at Lake Arthur. "The Regatta is not just a nautical event – it's also a celebration of play time, being with family and getting outside and enjoying nature," explained Event Director Holly Muchnok. "Whether it's children's activities, musical performances of all genres, or even classic cars that suit your fancy, the Regatta boasts it all."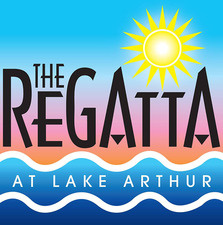 This two-day event, held August 2-3 on Pleasant Valley Road in Butler County, promises to be the premier, all-ages eco-recreational event in the region. It offers both land and lake activities, along with exciting opportunities to enjoy the park's natural resources.
Muchnok has been working tirelessly with a group of dedicated volunteers throughout the past year to give the event a makeover in order to streamline the focus of the Regatta and the amenities it has to offer. "For this year's event, we are excited to announce our new Building Healthy Places initiative," said Muchnok. "The Regatta will promote leading a healthy lifestyle more than ever before by adding wholesome food vendors to the mix of fun events. More than 25 percent of our vendors will offer healthy options to enjoy, such as freshly squeezed juices." There will also be a marketplace of vendors and crafters offering unique items as well as food concessioners, including regional food trucks.
Along with a variety of sailing races, Baierl Automotive is sponsoring a car cruise on the South Shore throughout the entire weekend. There is also a Moraine Eco-challenge Adventure (MECA) Race—an 18-mile race that will include both land and water components. Special events to top off each day include a fireworks display to end Saturday evening with a bang and, new this year, a butterfly release including monarchs and painted lady butterflies on Sunday. Butterflies can be pre-purchased either in honor of or in memory of a loved one.
Another exciting addition to this year's event is the 2014 North American Puddle Duck Championship. A puddle duck is a handcrafted, two-person sailboat. "We're really proud to host this event," said Muchnok, "so get your partner and get building, as you don't want to miss this unique opportunity to race your very own Puddle Duck! Or at least come out and cheer on those who are racing!"
Thanks to a grant offered through the Urban Land Institute, the Regatta at Lake Arthur's focus has evolved to promote wellness. Many new activities have been added including SummersCool, where visitors can partake in free classes such as windsurfing, dragon boat racing, kayaking, stand up paddle boarding, archery, outdoor camping 101, and YOLA (Yoga on Lake Arthur), to name a few. All classes are sponsored by groups such as Surfs Up Adventures, L.L. Bean and North Face.
"We want to focus on being active outdoors and just enjoying nature," said Muchnok. "All classes and events we offer are focused on being family-friendly, easily accessible and just plain fun.
"We want you to find a second home at Moraine," Muchnok added. "Come out and play at this giant playground!"
For more information on The Regatta at Lake Arthur, visitwww.lakearthurregatta.org.
The Regatta at Lake Arthur [5 Images]
Click Any Image To Expand