Advanced Cancer Care at UPMC Passavant
Jul 01, 2014 12:54PM ● By Vanessa Orr
Gretchen Ahrendt, MD, breast surgical oncologist, says a woman with breast cancer can receive 100 percent of the care she needs at UPMC facilities in the North Hills, including Magee Breast Center at UPMC Passavant–Cranberry.
When Susan Robbins was diagnosed with breast cancer, she was thankful to have her fiancé, her children, and her church family to support her. She also had a dedicated team of pathologists, diagnostic radiologists, and medical, surgical, and radiation oncologists working together to provide her with the highest-quality care possible.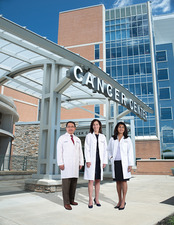 This multidisciplinary approach, in conjunction with cutting-edge technology, is what draws so many patients to UPMC Passavant for advanced cancer care. UPMC CancerCenter at UPMC Passavant provides advanced services for prostate, breast, lung, esophageal, upper gastrointestinal, lymphoma, head and neck, pancreatic, colorectal, liver, and gynecologic cancers.
"I can't say enough about the people at UPMC Passavant. They turned a devastating diagnosis into the best experience," explains Ms. Robbins, who underwent surgery and radiation treatment. "The last day I cried because I was glad it was over, but I also knew that I was going to miss them. They were really my rocks."
"UPMC Passavant offers state-of-the-art medicine in a community setting," says radiation oncologist Kiran Mehta, MD. "Some of the technology that UPMC Passavant has can usually only be found at larger, specialty centers, such as the Hillman Cancer Center and Mary Hillman Jennings Radiation Oncology Center at UPMC Shadyside. But as part of the UPMC CancerCenter network, UPMC Passavant is able to provide many of the same services."
During a weekly tumor conference, members of the pathology, radiology, medical, and surgical oncology departments meet to discuss patients' cases and develop treatment plans. "The hospital's physical layout is conducive to multidisciplinary patient management," says Dr. Mehta. "For example, if a patient is receiving chemotherapy for head and neck cancer and their blood counts are down, I can easily visit with their medical oncologist and the patient to discuss treatment-related toxicities."
"This collaboration is essential to ensure that patients get the best possible care," adds Gretchen Ahrendt, MD, breast surgical oncologist, Magee-Womens Breast Cancer Program. "If a woman develops breast cancer, for example, she can receive 100 percent of the care that she needs at UPMC facilities in the North Hills. She can go to UPMC Passavant in Cranberry for imaging services and surgery, and have her chemotherapy and radiation done at UPMC CancerCenter at UPMC Passavant. There's no need to travel into the city. UPMC Passavant offers many of the same advanced technologies as a larger, urban center, but at a location that is more convenient for those living north of Pittsburgh."
State-of-the-Art Technology
Janis Catone is one patient who realizes just how important it is to have access to the latest technological advancements. In July 2013, during her regularly scheduled mammogram, she chose to have a 3D mammogram instead of a traditional mammogram. The mammogram showed a very small lump on her breast, which was later diagnosed as triple-negative breast cancer. "The doctor who did my surgery said that I was lucky to have had a 3D mammogram, since the lump probably wouldn't have shown up on a regular mammogram," says Ms. Catone. "Even though I wasn't quite at Stage 1, it was recommended that I undergo very aggressive treatment because of the type of cancer I had."
A number of advanced diagnostic services are available at the Magee Breast Center at UPMC Passavant–Cranberry, including computed tomography (CT scan), positron emission tomography (PET-CT), digital mammography, and MRI-guided breast biopsy. Dedicated breast surgical specialists, with advanced training in innovative surgical procedures and techniques, are able to offer an expanded array of breast-conserving surgical options.
"At UPMC CancerCenter at UPMC Passavant, surgeons work very closely with both radiologists and oncologists to determine the best course of treatment, as well as to decide if future testing is needed," says Dr. Ahrendt, who works in conjunction with Priscilla McAuliffe, MD, PhD, breast surgical oncologist, Magee-Womens Breast Cancer Program at UPMC Passavant. "And we are able to do most surgeries here, except for the more complex reconstructive surgeries."
After receiving her diagnosis of invasive lobular carcinoma, Ms. Robbins made an appointment with Dr. Ahrendt. After seeing her, Dr. Ahrendt scheduled her surgery for the following week. "Dr. Ahrendt was fantastic; it went so fast, I was in and out," says Ms. Robbins. "Even though I'm a nurse, I had no idea it would happen that way. I was just so happy that the cancer was out of me.
"It's like it never happened," she adds, "and hopefully, it will never happen again. There's very little chance of recurrence."
After Ms. Catone had her surgery in July, she was prescribed two different types of chemotherapy, followed by radiation at UPMC CancerCenter at UPMC Passavant. "People couldn't have been nicer," she says of her experience. "Everyone treated me like I was someone special. It felt like my home away from home.
"I especially appreciated that it took such a burden off of my family to see how well I was being taken care of," she adds. "Cancer doesn't only affect the person who has it — it affects everyone they love."
According to radiation oncologist Alex Chen, MD, patients who come to UPMC Passavant for cancer treatment are getting the best of both worlds. "In addition to access to surgical, medical, and radiation oncologists, patients can take advantage of all of the advanced technologies that we have at UPMC Passavant," he explains. "This includes intensity-modulated radiation therapy, or IMRT, which enables us to constrain radiation to a specific tumor, causing less damage to the surrounding critical organs. This is particularly important in the prostate, for example, which is surrounded by the bowel and rectum, and in breast cancer, where we don't want to overtreat the heart or lungs."
Other targeted therapies include:
Respiratory gating — A tracking device that monitors the tumor's position during the breathing cycle and briefly shuts off the radiation beams when the tumor moves beyond the treatment area.
Image-guided radiation therapy (IGRT) — Uses imaging technology immediately prior to the radiation treatment to guide the radiation treatment beam.
Brachytherapy — Radioactive seeds are implanted on or near an area needing treatment to limit radiation to a small area, decreasing the risk of side effects.
Compassionate Care
As part of the UPMC CancerCenter network, UPMC Passavant follows the Via Pathways program. Via Pathways are disease-specific treatment regimens developed by teams of academic and clinical oncologists who regularly review current literature and clinical practices. These specialists keep the pathways updated for more than 90 percent of cancer types. Via Pathways enable the multidisciplinary teams at UPMC Passavant to provide patients with the latest advances in cancer prevention, detection, diagnosis, and treatment. But according to patients, the medical staff brings even more than this level of expertise to the care that they provide.
"They are the best people ever," says Ms. Robbins. "They are very kind and very compassionate."
"The people at UPMC Passavant responded to me the way a best friend would," adds Ms. Catone. "They cried with me, they felt my pain, they celebrated my happiness. They accepted my family — when my daughter showed up with two pages of questions in a notebook, they answered every single question, explaining every detail. They treated me as if I was their only patient.
"When my treatments were finished, I told them that they were not just my doctors and nurses but also my best friends," she adds. "They are just wonderful. They were always compassionate, caring and very concerned."